Call for international solidarity with anti-fascist Jock Palfreeman
July 25, 2014 will be a day of Solidarity with antifascist prisoner Jock Palfreeman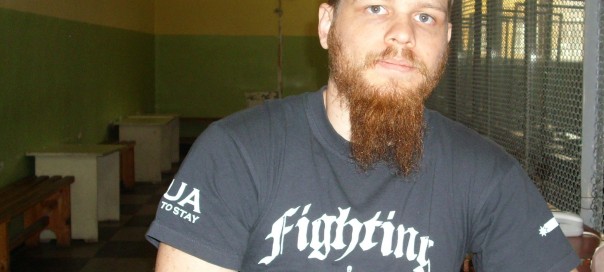 Who is Jock Palfreeman?
Jock Palfreeman is an young man from Australia serving a 20-year sentence in Bulgaria. In 2007 he was travelling in Bulgaria when he defended two Roma men being attacked by soccer hooligans; in the ensuing fight, one of the attackers was killed under unclear circumstances. After a biased trial, Jock was convicted of murder, and the Bulgarian authorities refuse to transfer him from the notoriously run-down prison he is held in to Australia, without paying a huge fine. While in prison, Jock helped form the Bulgarian Prisoners Union, and has been beaten by guards in retaliation for his activism.
Take Action!
Palfreeman's supporters are trying to have him moved to Australia to serve his sentence out closer to his family. Despite international agreements, the Bulgarian government has refused to transfer him until his family pays hundreds of thousands of dollars. He has asked supporters to pressure the head prosecutor to allow his transfer to Australia under the theme: 'Head prosecutor Tsatsarov, stop following orders from corrupt politicians and do your job!'
Sotir Tsatsarov 2 Vitosha Boulevard Sofia, 1061
press@prb.bg
Bulgaria's Embassy and consulates are located in New York City, Los Angeles, Chicago, and Washington, DC:
http://www.bulgaria-embassy.org/webpage/ConsularInformation/procedur.htm
Donations!
Palfreeman has asked that if money is raised, that it be sent to the Bulgarian Prisoners' Rehabilitation Association, which he is the chairman of. www.bulgarianprisonersassociation.wordpress.com. Donation will be used for a legal aid defense fund and for lawyers to protect prisoners against punishments of the prison (for example appealable isolation punishments). Money can be sent via a wire transfer:
IBAN: BG29TEXI95451003928100 BIC: TEXIBGSF Texim Bank.
If it is easier to donate money via check or paypal, contact jockpalfreemanjuly25@gmail.com to make arrangements
Write to Jock!
Jock Palfreeman Sofia Central Prison 21 General Stoletov Boulevard Sofia 1309, BULGARIA
(Please do not send books; for details on what to see, http://www.freejock.com/writejock.html).
For more information:
freejock.com
facebook.com/WhoIsJockPalfreeman
http://www.brightonabc.org.uk/jock.html
- UPDATE -
A few days ago Australian anti-fascist Jock Palfreeman was assaulted in Sofia Central Prison in Bulgaria (he says it was not "too badly") but yesterday [July 6] the same guard assaulted another prisoner, an elderly man, and some of that man's compatriots came to his assistance. These seven were then set upon by 40 guards, who brutally beat them.
Jock, in his role of secretary of the Bulgarian Prisoners Association, phoned a number of lawyers to help defend those assaulted. Now Jock has been threatened by the same prison guard has threatened him with another beating.
It is no surprise that not only Jock's role within the prison with the Bulgarian Prisoners Association but also because of the various days of action for Jock being organised around the globe to highlight his case. You can contact the Bulgarian prison authorities [details here] or organise a protest at your nearest Bulgarian embassy or consulate.