[Amsterdam] Anarchistische boekenbeurs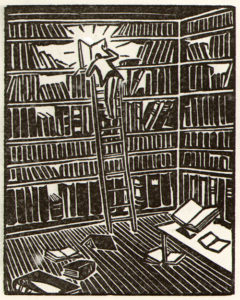 [English below]
De Anarchistische Groep Amsterdam en Paper Jam organiseren samen een anarchistische boekenbeurs. Wij doen dit om te bouwen aan een anarchistische beweging die zich kan verzetten tegen het geweld van de staat en het kapitaal. In een tijd van verrechtsing is het van belang om ons te richten op het bouwen van infrastructuren voor een autonome en strijdbare beweging. Anarchistische boekenbeurzen zijn daar een belangrijk onderdeel van. Ze zijn dé plek om mensen met elkaar te verbinden en nieuwe ideeën, teksten, actie- en propagandamateriaal met elkaar uit te wisselen.
Het begon allemaal vijftien jaar geleden toen de Anarchistische Groep Amsterdam (AGA) besloot een kleine bibliotheek te beginnen in Infokafee Bollox. De Bollox bevindt zich al 30 jaar in De Binnenpret, een voormalig gekraakt, inmiddels gelegaliseerd complex van gebouwen waar de strijd voor wonen, de strijd tegen de staat, en vele andere anti-autoritaire strijden doorgaan. De bibliotheek is inmiddels uitgegroeid tot een goed bijgehouden collectie van meer dan 1000 boeken, zines, films en documentaires die allemaal gratis en door iedereen gebruikt kunnen worden. Met de bibliotheek en de boekenbeurs willen wij bijdragen aan de strijd voor anarchie. Kom met ons vieren dat de bibliotheek 15 jaar bestaat! Kom naar de boekenbeurs!
Hier een eerste greep uit het programma, maar nieuws volgt:
Stands:
o.a. Roofdruk Uitgeverij, boekwinkel Fort van Sjakoo, Kelder Uitgeverij, uitgeverij Atalanta, Paper Jam drukcollectief, Anarchistische Groep Amsterdam, Iris Uitgeverij, de Vrije Bond, Infotheek Gent, Anarchistische Groep Nijmegen en anderen.
Eten en Muziek:
's avonds is er eten van Ajo Negro kookcollectief en muziek van Lifeless Past, Kees Peerdeman en DJ Gingermoon.
Presentaties:
Datum: 2 september
Locatie: De Binnenpret, 1e Schinkelstraat 14-16 Amsterdam.
Entree: gratis
Meer info: http://boekenbeurs.agamsterdam.org of e-mail abfa@puscii.nl
[English]
Anarchist bookfair in Amsterdam
The Anarchist Group Amsterdam and Paper Jam are organising an anarchist book fair. We are doing this to build and anarchist movement that can resist the violence of capital and the state. In a time of growing right-wing sentiment it is important to focus on building anarchist infrastructures for an autonomous and militant movement. Anarchist book fairs are an important part of this. They are the perfect place to meet new people and discuss new ideas, to exchange new texts, action and propaganda materials.
It all started fifteen years ago when the the Anarchist Group Amsterdam (AGA) decided to start a small library in the Infocafe Bollox. This bar has been located for 30 years in De Binnenpret; a once squatted, now legalized complex of buildings where nonetheless the struggles for housing, against the state, and many other anti-authoritarian struggles continue. The library has grown to an up-to-date collection of over a thousand books, zines, films and documentaries that can all be used for free by anyone, as they should be. By running our library and organising the anarchist book fair, we try to contribute to the struggle for anarchy. Come and celebrate the 15th aniversary of the anarchist library! Come to the anarchist book fair in Amsterdam!
There will be books, zines, clothing, buttons, publishers, distro's, workshops, films, talks, vegan food and an evening programme with live music.
Here a first view of our programme, more to follow:
Stands:
Roofdruk publishers, bookshop Fort van Sjakoo, Kelder publishers, Atalanta publishers, Paper Jam printing collective, Anarchist Group Amsterdam, Iris publishers, Vrije Bond, Infotheek Gent, Anarchist Group Nijmegen and others.
Food and Music:
At night food from Ajo Negro cooking collective and music from Lifeless Past, Kees Peerdeman and DJ Gingermoon.

Presentations:
Datum: Saturday September 2nd
Location: De Binnenpret, 1e Schinkelstraat 14-16 Amsterdam
Entree: Free
For more info: http://boekenbeurs.agamsterdam.org or e-mail abfa@puscii.nl.